Room configuration configure the true, physical rooms available in your hotel. If you have 12 rooms, then you have to create 12 rooms in this section. Use Add Room button at the top rшпре corner of Room configuration screen to add more rooms
Name – Choose a name for your room. (In our case it's room River View Apartment)
Room Types – Assign the Room Type what you set up before to a new room. (In our case it can be a Per Night/per 2 Weeks/Per Month room type all on RO basis)
You can switch off the room by deselecting the Is Active checkbox. You can use this features in case if you want to deactivate a room for some reason, like repairing.
In the end, after assigning the room Names with Types – you will have something similar to this:
You can always duplicate the room by pressing the arrow to create more rooms of the similar type. For example if you create one Deluxe room and in your hotel you have 10 Deluxe rooms, you can simply create 9 copies and rename them after it by clicking the second button with a pencil.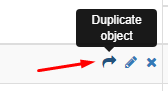 As soon as you finish, it's time to set up the rates and room availability.
---