To be in touch with your guests from the first minute is always a good manners for the hotelier. With the feature of Triggers & Actions in Effective Tours you can automate this process and be sure that none of your guest stay unattended. You can create automated email for any of events, like new Booking, Cancellation, Check-in and Checkout. Each event can be started immediately or scheduled to run with a certain time conditions. Definitely, the most demanding feature, is to send email to every new guests, right after the booking, to update him with the most important information about your place, offer any additional services, tours, transfers, etc. Give the direction to your place and the contact information.
To setup the Auto Email, you have to click on the top right side of the screen, where your name and your company name is displaying , then click to the Company Settings, and then Triggers & Action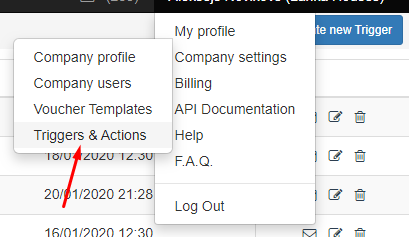 Click Create new Trigger and set the trigger details.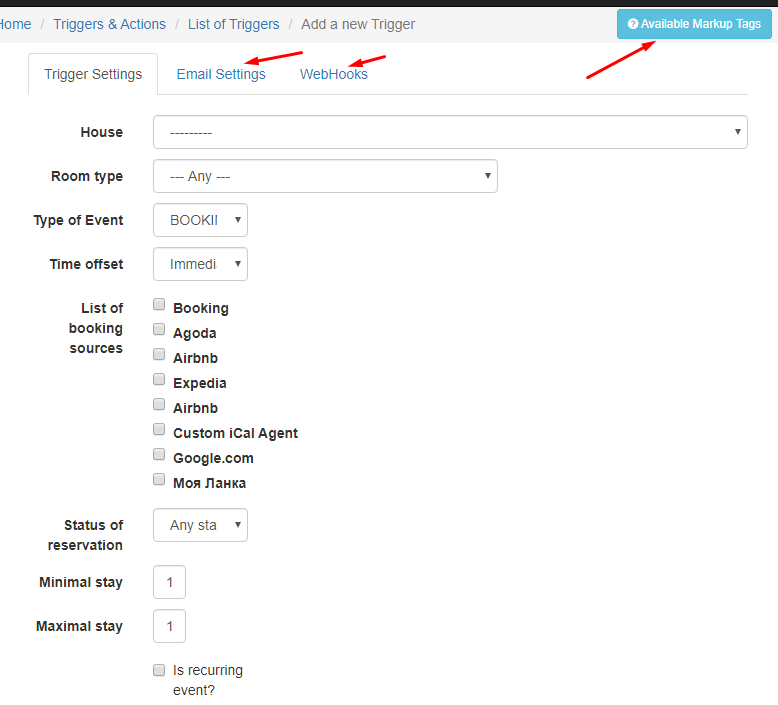 You can choose any particular hotel and room, or leave it empty, then it will work for all of your hotels and rooms types.
Events are divided by the action.
BOOKING – Each time, when the new booking event happens. It can also be a cancellation or modification of the existing booking.
CHECK IN – Check in of the guests
CHECK OUT – Check out of the guests

To make the triggers more flexible, we add the offset feature. It allows to activate the trigger before or after event. For example you can send reminding email 3 days before Check in, and a request for a review of your place in 5 days after the check out.
Status of the reservation, gives you more precise settings for the trigger. For example, if you provide NEW together with the Event: BOOKING, then the trigger will work only for a new booking.
And if you provide Cancel + Booking, then the event will work only on cancellation.
And the final touch is an amount of stay. It can works in case if you want to provide the guests with a special bonuses in case of long stay, or remind about a special conditions in case of short stay. In general everything depends on your needs and your imagination.
Email trigger
On the next TAB – Email Settings, you can choose whom to send the email according to the trigger. You can send it only to yourself, or to the client, or both. Subject and Email context you have to write yourself. To make the email better you can use the markup language. To see all the mark-ups available, simply click the Available Markup Tags.

IMPORTANT: This feature is depends from your email settings, read more Setting up the email credentials
Webhook trigger
This trigger allows you to configure the URL for a web-hook call with all information of the particular booking in JSON format. This feature allows you to integrate ET with any third party solutions, like Zapier,