By default, Effective Tours support bi-directional iCal sync with Airbnb.
To enable both Rates & Inventory update for Airbnb, you have to enable Instant Update feature from your Agenda in ET. To do that, open your agenda, and click Export iCal icon next to the Room name you want to sync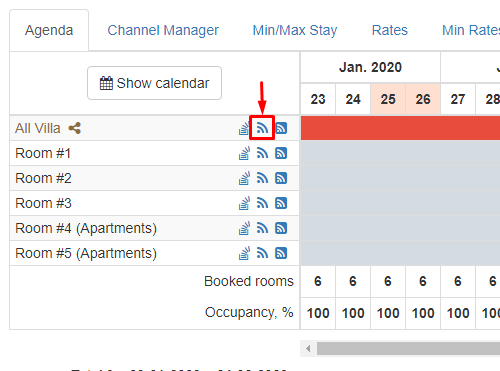 Provide your Airbnb Listing ID and follow the instructions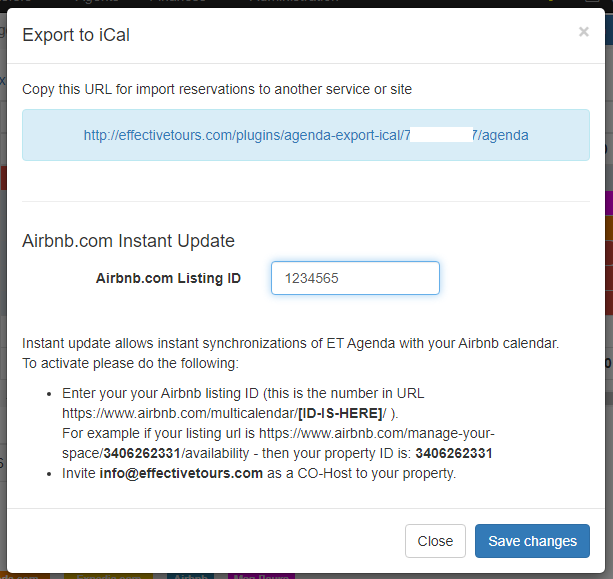 It's very important to invite Effective Tours as a Co-Host for your property, otherwise we will not be able to update your rates in Airbnb and provide instant sync.
If you want to sync prices from Effective Tours to Airbnb, you have to be sure, that Smart Pricing feature in Airbnb is switched off.

Our team will review your request and get back to you.
Setting up the Two-Way sync
Syncing Airbnb Listing with Effectve Tours
Open your Airbnb listing, navigate to Availability TAB and scroll down to Sync Calendar Section

Click Export Calendar and copy a link from the pop-up

Open Effective Tours agenda and click the Import ical icon, next to the room name you want to link the Airbnb listing to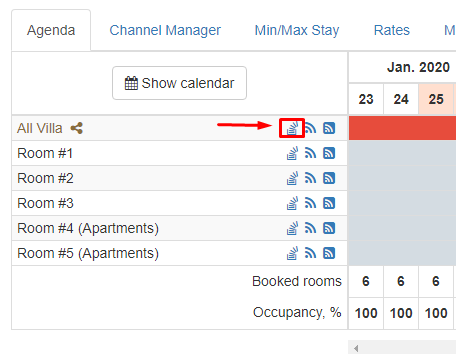 Paste the link you copy from Airbnb in the text-box next to Airbnb and click Save Changes at the bottom of the screen.

Refresh the screen and in case if you have any bookings in Airbnb – you will see him on your agenda in Effective Tours in red color.
IMPORTANT: Airbnb do not export blocked dates. In case if you simply block a date in Airbnb it will make no effect in Effective Tours. That's the standard behavior of Airbnb and cannot be changed
Syncing Effective Tours with Airbnb
Open Agenda in Effective Tours and make a right mouse click (Control button on Mac) on Export Ical icon, next to the room name you want to sync with your Airbnb listing to copy the link in to Clipboard.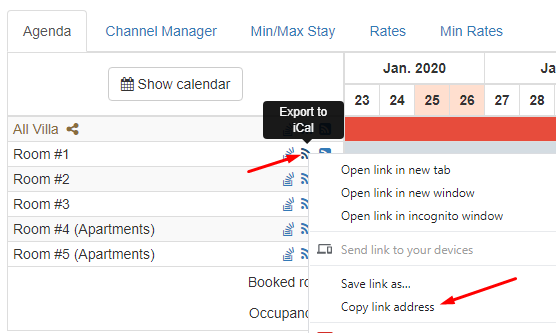 Open your Airbnb listing on the same page you did before, when you sync Airbnb with Effective Tours and click Import Calendar link. Paste previously copied link and name your calendar (for example Deluxe Bungalow ET) and config by clicking Import calendar
Your Airbnb <=> Effective Tours sync is completed. In case if you already activate Instant Sync – all changes in both calendars will be reflected on another one within less than a minute.
If you have any difficulties with Airbnb, follow this instructions on Airbnb site.
Setting up Rates Updates for Airbnb
As soon as you activate the Instant Sync for your Airbnb listing, you can have to map the proper rate from ET to your listing, then Effective Tours will know the proper rates to update the particular listing, The mapping procedure is similar to all other channels. Please follow the manual: Mapping Rooms & Rates
---